Putting the FUN into Fundraising
In 2014, I was asked to write a piece for The Gorilla Organization's newsletter 'Digit News' about why I became a Regional Volunteer Fundraiser. GO would like to recruit more volunteers, so they asked me to describe some of the ways in which I have raised funds and awareness about their work over the last twenty years. An extract from the information which I gave them appeared in Digit News issue 45 Spring 2014 and also on their website news page:
www.gorillas.org/articles/phred-newbury-tales-regional-volunteer
Here is the information which I gave them from which those extracts were taken:
2014 marks a special anniversary for me as it was in 1994 that I began fund-raising for The Dian Fossey Gorilla Fund, Europe (DFGF), now known as The Gorilla Organization (GO).
In the autumn of 1993 I went on a life changing adventure to see mountain gorillas in Rwanda. The trip was led by Ian Redmond who had been a research assistant to Dian Fossey. Ian is now GO's chairman and also the recipient of a well deserved O.B.E.
Back then, there were fewer than 650 mountain gorillas left in the world. I was upset to discover this, so on the way back to the U.K. I asked Ian if there was anything I could do to help. I had been a fundraiser for various conservation organisations since 1984, so perhaps I could help in this way.
"I'll put you in touch with Jillian at DFGF" he said, and thus began 20 years of fundraising for an organisation which helps not only critically endangered gorillas, but also their human neighbours, including those brave unsung heroes who put their lives at risk protecting the gorillas.
During the previous ten years I'd done the usual sort of fundraising: manning stalls at fetes; collections in supermarkets; etc., but I thought people may be more inclined to help if they heard about the plight of gorillas first hand. I therefore asked Ian if he would give an illustrated lecture about his time working with Dian Fossey. He agreed, so together with my (long suffering) husband Rob and a few friends, in July 1994 we organised a Gorilla Evening in the Arts Centre of our home town – Evesham in Worcestershire.
To publicise the event, I approached local newspapers and radio stations and they thought it would make a great story. It certainly did and the media coverage helped to make the event a huge success. As well as considerable ticket sales, we sold gorilla-themed merchandise and organised a raffle. A tip for unusual raffle prizes: local businesses are often happy to donate vouchers for their goods or services as it gets them potential new customers and publicity.
Another important thing the event did was to provide entertainment in return for people's contributions. This is my top tip for successful fundraising: involve or entertain people in some way rather than just ask for their money. Think about those big shows or charity events on television and how successful they are when people can participate. This is why, over the years, I've come up with a number of fun, yet interesting, thought provoking events which we have organised locally.
I also have some 'Grand Silly Ideas' which we have not been able to achieve though. I would love to do something really exciting like The Gorilla Factor or Strictly Gorillas with singing or dancing shows in gorilla costume, but fortunately Rob brings me back down to earth, so we organise events which we know can take place with just a few stalwart helpers instead!
This is something to bear in mind if you become a Regional Volunteer. Friends and family may get excited about a proposed event and encourage you to organise one, but with the busy lives everyone leads, although they may turn up at the event itself, you will need to find dedicated people with the time to help beforehand – or be prepared to do it by yourself!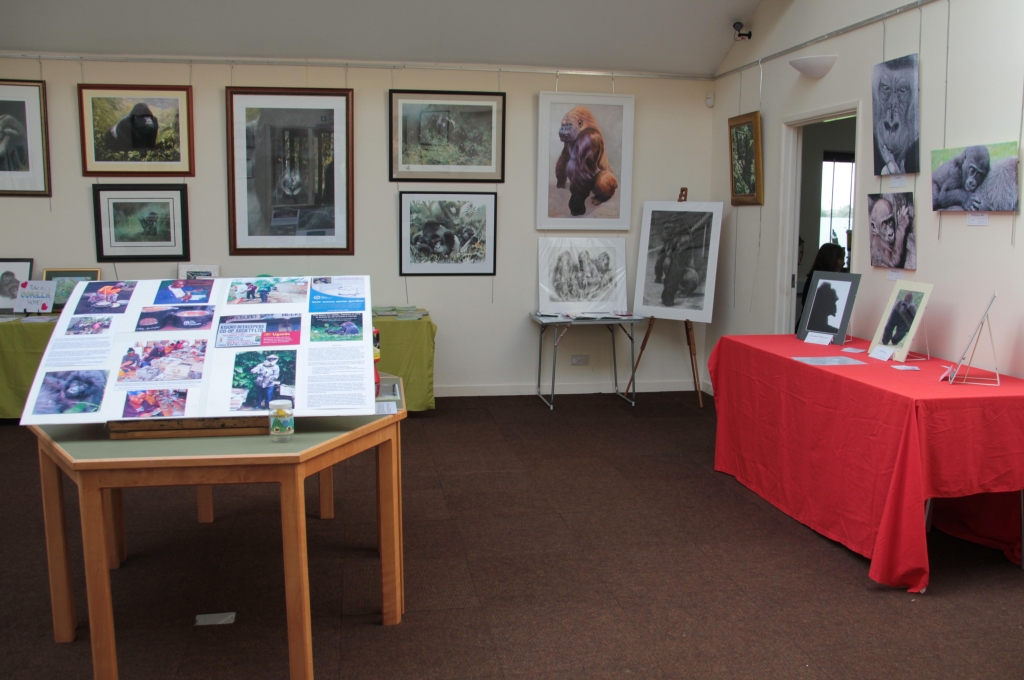 Gorilla-themed Art Exhibition at Nature-in-Art near Gloucester in October 2013
The latest event which we organised was at Nature-in-Art, a gallery and art museum in nearby Gloucester. At this magnificent venue we held a two day Gorilla Event, which included an exhibition and sale of gorilla themed artworks. Our thanks to those who generously donated artworks. On the first evening, after a superb buffet, Ian Redmond gave one of his excellent lectures ending with a demonstration of a Great Apes Film Initiative (GAFI) project which is supported by GO.
It caused much amusement when members of the audience (including Nature-in-Art's director Simon Trapnell) were invited to "get on a bike". We were showcasing a Pedal-Powered-Cinema which "does exactly what it says on the tin". It is vital to have the support of local people in conservation, so for people who live near gorilla habitat in areas without electricity, a pedal-powered cinema is a means for them to see documentaries about the wildlife on their doorstep – an entertaining and life-changing way for them to learn about the importance and value to themselves of their own unique, natural heritage.
Many charities have big fundraising events which take place in London – for instance, GO organises a fantastic Great Gorilla Run each year (I did the first one in 2003). However, for people who find it difficult or too expensive to get to the capital, it's important to get the message out in other areas as well, so it would be great for GO to have more Regional Volunteers.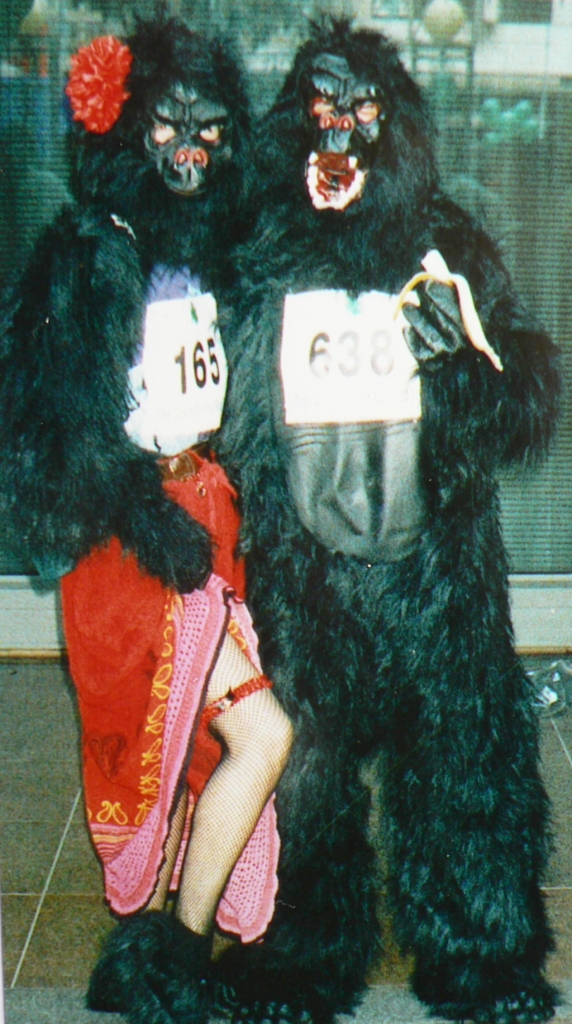 My friend Frizz (No. 638) and me (No. 165) at the first Great Gorilla Run in 2003
I belong to a Ceroc dance club and still hanker after an annual Strictly Gorillas, so if there is someone else out there, in say Birmingham, who thinks a room full of sequinned gorillas would be a cool sight, perhaps we could team up?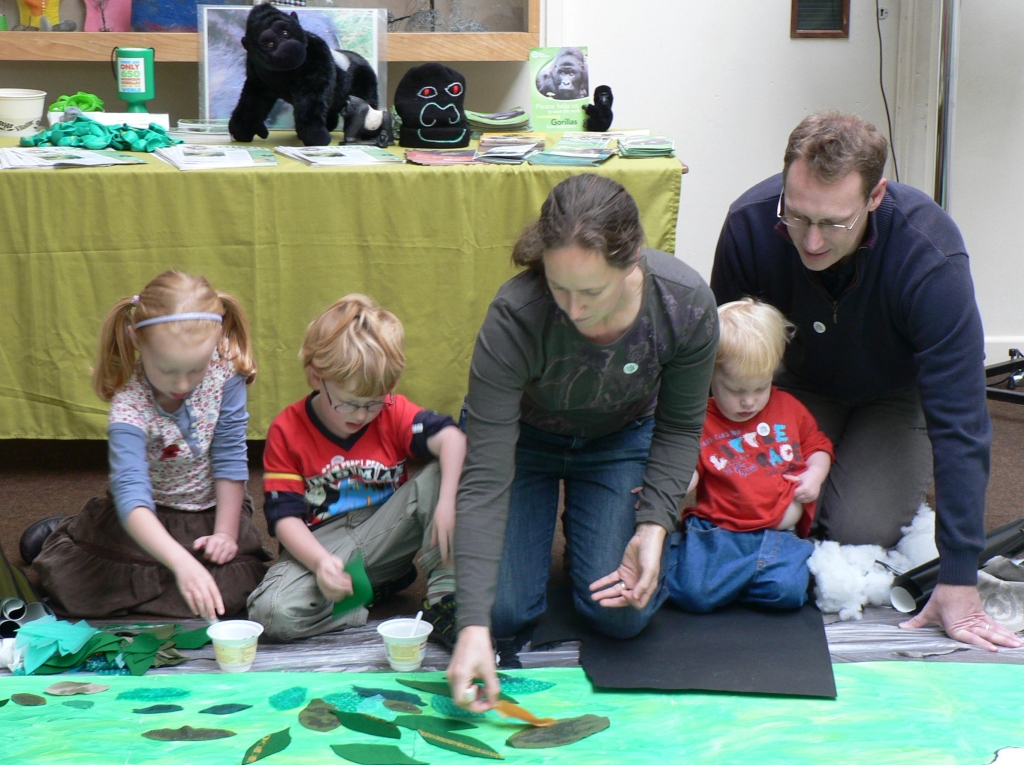 Family Activity Event at Nature-in-Art, Nr. Gloucester in 2009
A few more examples of events we have been able to put on. The Director and staff at Nature-in-Art have been great GO supporters and a few years ago we held another exhibition which included a Children's Activity Event, when over the course of a week, a huge gorilla collage was made. Great fun – even adults couldn't resist getting down on their hands and knees to help.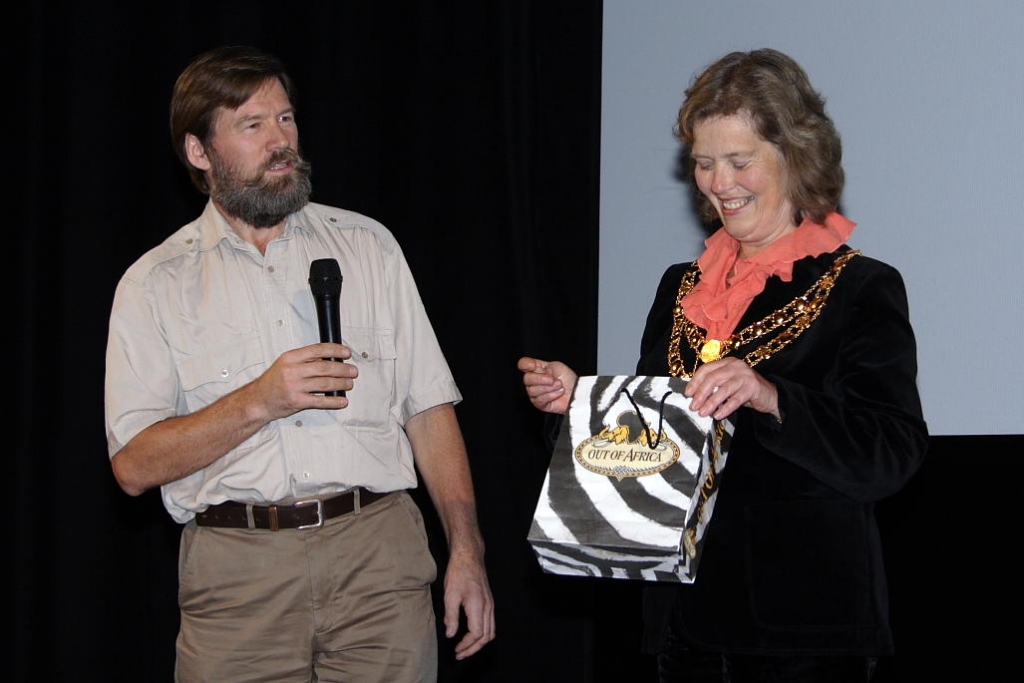 Ian Redmond and Val Wood who was Mayor of Pershore at the time draw the raffle at a
special screening of 'Gorillas in the Mist' at Number 8 Cinema Pershore, Worcs. in March 2007
Another very successful event was held at a charming independent Cinema and Arts Centre called Number 8 in the nearby town of Pershore, where we arranged a special screening of Gorillas in the Mist with Ian Redmond introducing the film. This famous film is often shown on television, but it's rare to see it on the big silver screen, so once again, it was unusual enough to receive the necessary publicity to draw in the crowds and we raised a large sum of money and a great deal of awareness.
Publicity is very important and I've been fortunate in having great support from The Vale Magazine, an excellent local publication which covers the Cotswolds and Vale of Evesham. The editor has very kindly featured many of our unusual fundraising events, and has helped to drum up sponsorship for my Great Gorilla Run and also when a friend ran the London Marathon on behalf of GO.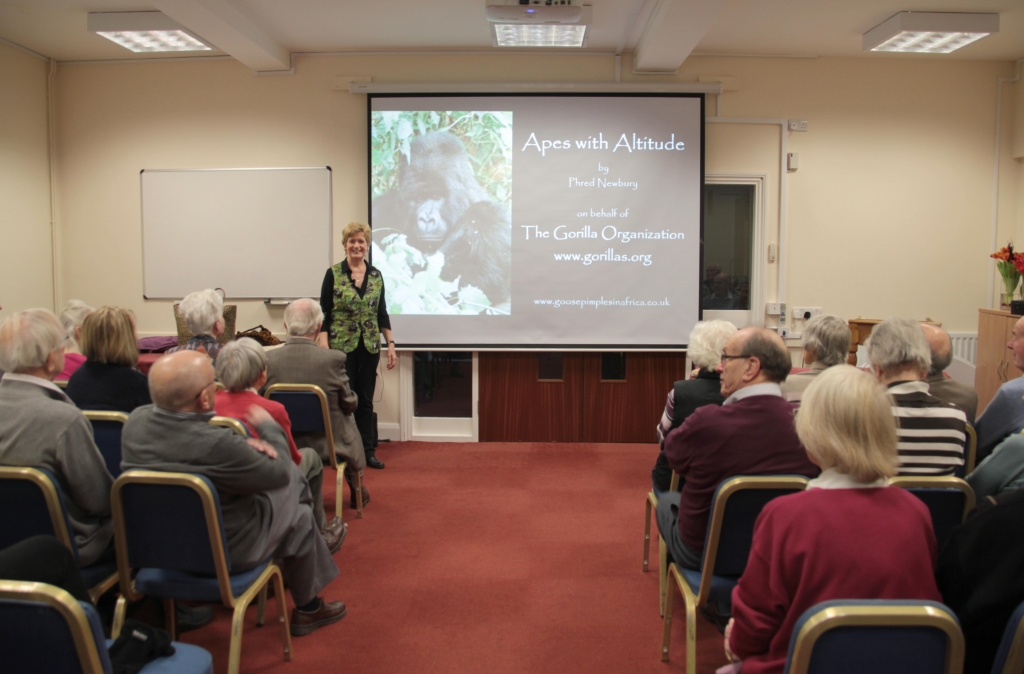 Preparing to give my 'Apes with Altitude' illustrated talk to a U3A Group in Solihull in February 2014
After seeing a number of Ian's wonderful lectures, I realised that an illustrated talk was not only a way to raise funds, it was an entertaining way to raise awareness. Therefore, in 1998 I decided to give talks myself – okay, not as expertly as Ian does, and to much smaller audiences – at Women's Institutes, Probus, Rotary and Friendship Clubs, schools, etc., but at least it informs people from other walks of life who would not necessarily know much about gorillas. Also, there is no organising required on our part. After I've taken a booking, it only means turning up at the venue where the club's meetings are held, setting up my digital equipment and giving a presentation in return for a donation to GO.
Before retiring from paid employment, I did just a few talks per year, but by word of mouth, bookings have increased significantly in recent years and led to travelling much further afield. My talks are not scientific, they are mostly anecdotal using my own photographs, but I also feature images of some of the many projects supported by GO, and thanks to Ian's excellent guiding on that first eventful trip to Rwanda, I have a wonderful video clip of an amazing close encounter with a group of mountain gorillas which I always show at the end of the presentation.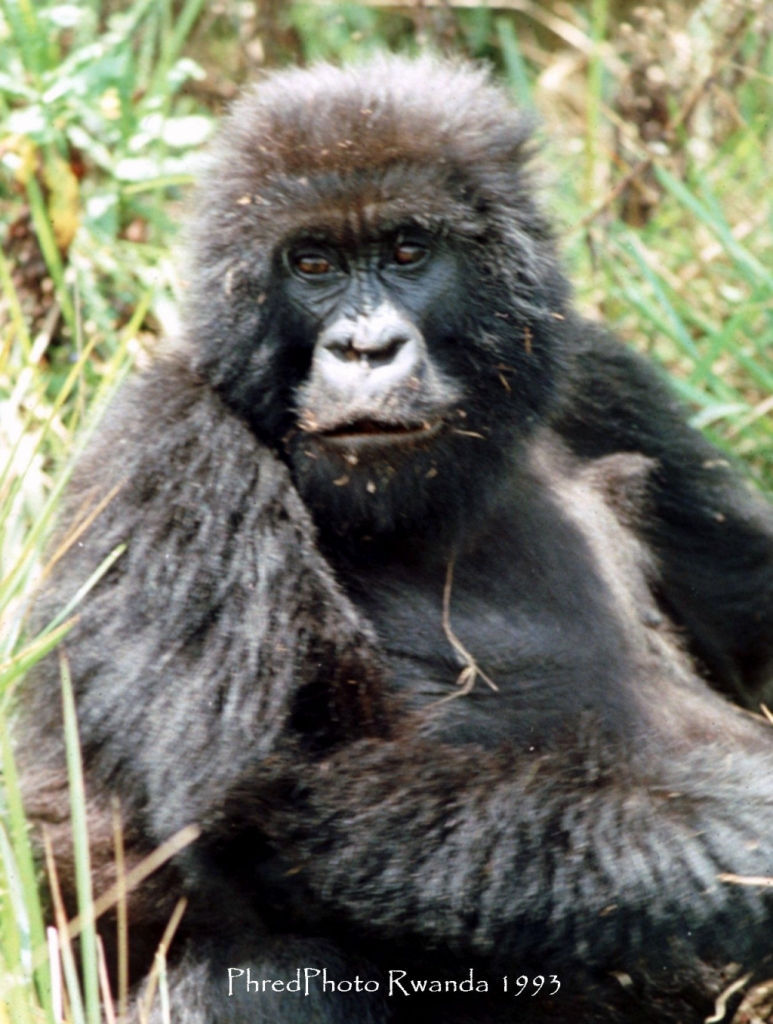 One of the photos I took on my first visit to see the gorillas of Rwanda in 1993
I have a lot of talks arranged up to the end of 2014, but decided not to take any more bookings. After general fundraising for 30 years, and 20 years for GO, I need to ease up a little. Although age is no barrier to fundraising, travelling to so many far away venues is becoming time and energy consuming. Also the cost of getting to them is now prohibitive. Rob and I bear all our own costs and never deduct any travelling expenses. If you decide to do illustrated talks, it's therefore best to keep to your local area.
Fundraising can be challenging with so many charities out there, but think about the first three letters and make it FUNdraising. By putting on one entertaining event each year, giving a few presentations (you don't have to do as many as I do) and possibly getting a local school to do an annual sponsored event (ours did a Swimathon), considerable sums can be raised fairly easily.
The events we organise can usually be put on with just Rob and myself, but if you have time and a large circle of helpers, even more can be achieved. However, always check with Head Office that it's okay to do it in GO's name. They will provide leaflets, membership forms, etc., and advertise your event on their Facebook site, but remember their staff time and funds are already allocated, so you must be able to put on the event independently and still make a profit for GO. We have been lucky in having generous support from the proprietors and staff of some wonderful venues who charge little or no hire fees.
Being a Regional Volunteer for GO has many benefits, including meeting a lot of wonderful people who you would not otherwise have met, but best of all you will be doing something positive for gorilla-beings and human-beings who, through no fault of their own, need and deserve our help.
PS: I'm off to stick some sequins onto my gorilla costume 'cos I always live in hope!